Happy Anniversary to us!   
[First off, the only reliable internet access we have here is up at the main lodge, so don't expect to have us respond to comments or otherwise communicate much this week.  We'll do our best to get timely F&B reports out, though!  Also, the photos are low-res, because... a girl only has so much time.] 
After a sleep-in and last-minute pack by Alyssa (who had closing night for Faust followed by the after-party followed by laundry the night before), we packed the car and the dogs and headed to our new vacation destination, the Viamede resort.
(For those of you still wondering why we're not heading to Sir Sam's this year, catch up here.)

It was a long drive, but the pooches were pros, on this first long journey for both of them (short of coming home from the breeder).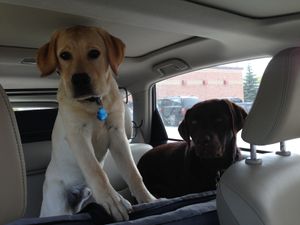 We found the resort without a hitch, checked in at the main reception, and then drove to our little cottage.  It's a bit smaller than we were expecting — we had originally booked a one-bedroom, but then had to switch dates due to Alyssa getting hired for the show, so think we ended up with a studio cottage instead — but perfectly comfortable, with a small kitchen, sitting area, and patio with barbecue.  It's also the closest cottage to the fenced-in dog run, and we just have to walk down the hill to the dog swimming area.  We've also got a great view of the lake from two sides, and a lovely breeze sweeping through.  They had also been kind enough to leave us a bottle of wine, and two small packages of dog biscuits as a welcome (oh, they know us, they know us!).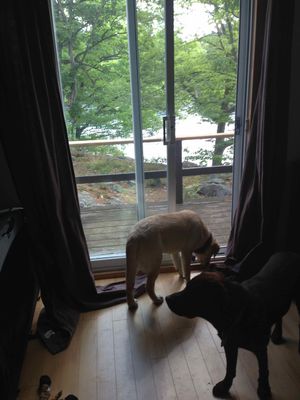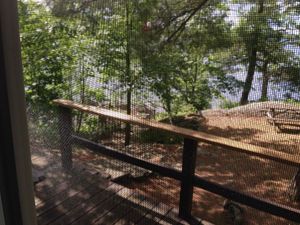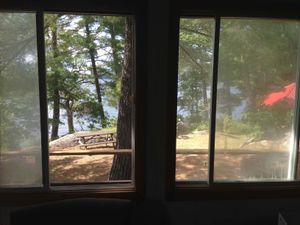 Viamede resort is, of course, a dog-friendly resort, and has a focus on local foods (they even have their own farm) and sustainability.  The owner will give $10 to the Golden Retriever Rescue for every dog who comes to stay, or $20 if the dog is a Golden, or $100 if the dog is one of their rescue Goldens (rescued from Turkey).  There are 6km of off-leash trail, plus the dog run and a dog swimming spot.  They'll also give you bowls, beds, etc., if you've forgotten anything. 
After 2-1/2 hours in the car, the dogs were ready to romp, so after we fed them a very late lunch (yogurt and probiotics, followed by TLC dog kibble, for you F&B fans), we took them to the dog run with frisbee and chuck-it, to try and expend some energy.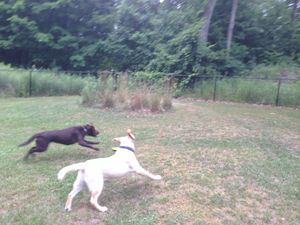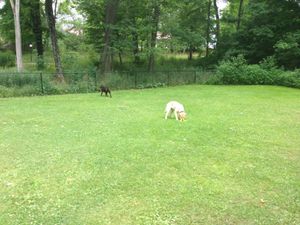 Then we brought them down to the doggie swim area.  Despite spending the last two weeks climbing up and down scaffolding, Alyssa is still not too confident going down rocky terrain, and when the now-50-pound Jasper made a lunge for it, she couldn't hold on to him and her balance at the same time, so he got to the water first.  Macie waded in before Don could get her leash off, but we coaxed her back to shore and released them both from their "chains".  The "dog beach" is not beach like at all, so there's not really a way for us to wade in — there are rocks and then the deep.  So we decided to head back up to the cabin, so Don could get changed into his swimsuit (the vet had warned us that not all Labs know how to swim, so we should be prepared to go in with them the first time).  Of course, they decided to run up the hill and PAST our cottage, making a break for freedom down the roadway to the other cottages.  Gaahhh.  They finally realized we were calling, and came back.  Don got changed and we headed back down the hill to the doggie swimming spot.    
After a bit of wading around on the point, Macie gained the confidence to swim off the end of the rocks by herself.  A few tentative steps on the rocks for Jasper, and then he suddenly committed, and did a flying leap into the deep part.  Fortunately, he floated and swam back beautifully.  So they have now both had their first (voluntary) swims, and seemed to like it.  In fact, they were so proud of themselves, that they chased each other round and round the grassy area for a while (getting rid of adrenaline rush, we're assuming) and then… yes… ran out of the off-leash area and up the path along the shore.  They went so quickly we couldn't see where they'd gone.  But then the sweet smell of barbecue reached us and, sure enough, they had adopted themselves a new family, who were having a picnic dinner outside their cottage. 
Egads, we're going to get ourselves kicked out of this place in less than a day… 
We brought them back to the swimming place, and they did a bit more swimming and a lot more running around (they were better about staying in the area, once we showed them all the treats we had with us).  This time, when it was time to go up the hill, we attached them to their leashes.  :)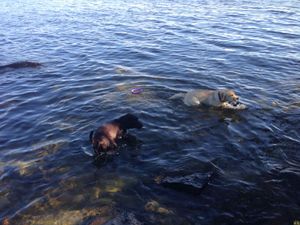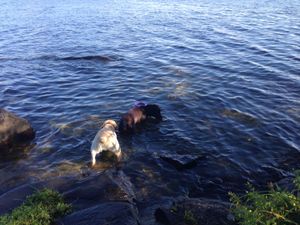 We got dressed for dinner, put their travel crates together, and popped them in with a couple of new toys and some frozen bones, as we walked down the road to Mount Julian, the resort's fine dining restaurant, because heck, it's our sixth anniversary, and we're worth some fine dining.  :) 
They offer a 5-, 7- or 9-course chef's tasting menu (or you can order a la carte).  We opted for the 7-course menu, and added the wine pairing.  Because heck, we're worth some fine wine!  Don mentioned it was our anniversary, and asked if they might have any champagne?  The waiter came back with a bottle of Prosecco, and said it was on the house.  Now that's a way to welcome new guests! 
We should have gone in with pen and paper, because we're sure we're forgetting some of the ingredients.  But many of them were from the Viamede farm, or sourced locally, including the wines.  And we're definitely forgetting the exact wines… but they were all delicious!  Don doesn't even care for white wine, but thoroughly enjoyed these whites as well. 
They first brought out an amuse bouche board, with two mini duck egg omelettes served on a sliced radish, two fried smelts on a roasted pepper sauce, and a beef sauce for Don / tofu sauce for Alyssa on a biscuit.  (The sauce was on a biscuit, not Alyssa). 
First course was an Heirloom Tomato Gazpacho.  First they brought out bowls on an edible leaf of some sort (almost looked like a small maple leaf, with a bit of a spicy taste) filled with a "nest" of red pepper threads, a dollop of sherry jelly, basil, and oregano flowers.  Then they poured the cold broth over top.  It was paired with… a white of some sort, from… we think the Niagara region (pen and paper next time!).  A faint bit of cooing could be heard from the estrogen side of the table. 
Second course was "Peas and Carrots" salad.  It was a line of creamy goat cheese, topped with chopped sweet snap peas, carrot pearls, toasted peanuts, grilled radicchio, and organic greens, topped with a carrot cider vinaigrette.  The peas and carrots were like eating candy, contrasting beautifully with the tart cider and cheese.  This was paired with a Riesling from Beamsville (Niagara Region).  The cooing got more noticeable. 
Third course was Great Lakes Pickerel — a grilled pickerel served atop baby kale, Tokyo turnip and Jarrod's radish (beautiful colours!), and topped with "Sumac Champagne Gastrique".  This was paired with… damn, another white, maybe a Cabernet (?) from California.  More cooing.  Sadly, this is the only photo we managed to take, since we felt a bit obnoxious.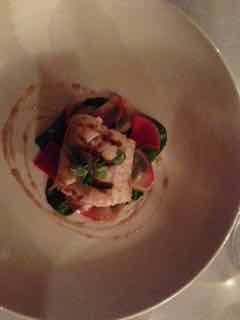 Fourth course was the Viamede Duck — which had a meatatarian version for Don and a vegetarian version for Alyssa.  Both featured a poached Indian Runner duck egg, with burnt orange and butter lettuce.  Don's included a slice of cured duck breast and foie gras.  This was paired with a pinot noir, also from Beamsville (30 Bench, which we remember because we've visited it before).  Duck eggs have a much richer, creamier texture than chicken eggs, it was almost like eating butter, but with a (pleasantly) stronger, richer flavour.  Coo coo coo. 
They then brought out a fabulous (still-warm) quinoa bread, with wild leek butter, rose cherry gastrique, and douglas fir bean purée.  You know, in case we needed some extra stuffing.  ;) 
Our fifth course also came in two versions.  Don's was a large medallion of red deer loin, served with Mclean's beans, charcoal tomato and maple smoked potato, atop a bed of pickled onion and topped with Black Prince Cabernet Franc jus.  Alyssa's was almost the same, except her protein was a medallion of tofu that had been marinated in Cabernet and coffee.   This was paired with… it might have been a Cabernet Sauvignon, but… lack of pen and paper combined with five glasses of wine and two of prosecco, sorry!  Suffice it to say that cooing gave way to moans. 
Sixth course was a cheese plate, with sheep milk cheese from the Mariposa Dairy in Lindsay, wild leeks and buzzword honey, with a nest of hibiscus kasha topped with a honey comb.  This was paired with a lovely glass of port.  The mix of flavours was pure artistry.  More moaning.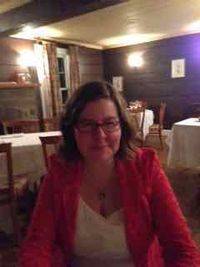 And finally, the seventh course was a Black Forest Plate, with Niagara cherries, dark chocolate creme, rosewood mead, frozen honey milk, and cherry cream.  This course was paired with beer — a delicious chocolate porter from… somewhere in Ontario.  More moaning ensued.  Although we weren't stuffed to the point of being in pain, because the entire meal had been about 2-1/2 hours of gastronomic bliss.  We could not, however, manage to ingest any tea or coffee, because we would definitely have crossed the line if anything else had touched our lips… 
We walked / staggered back to our cottage, only to discover that both dogs had managed to escape their respective crates.  Jasper through the top (we had kind of expected the velcro to give way there), and Macie, somehow, through the zippered door.  They welcomed us home, and hadn't destroyed anything.  So we fed them their TLC kibble topped with a bit of pumpkin purée and chicken (because it's vacation!), served in a dish of metal, paired with fine tap water from the well, served in a blue dish with rubber bumpers.  Then they got a bit of a walk, to eliminate both energy and… other stuff.  And we all fell asleep to the sound of the lake waves and blowing wind. 
The curtains here aren't as good as the thick blinds at home, so "the kids" started to fuss at sunrise.  Macie whined at the birds and chipmunks, and Jasper somehow managed to get himself stuck under the bed, where he whined to be rescued.  We tolerated this (barely!) until a little after 7:00, when Don lifted the bed and Alyssa dragged Jasper out.  He then kindly took the dogs for a long walk, so Alyssa could catch up on some of the sleep she's been missing the last few weeks.  After tuckering them out, all four of us got a few more zzz's before the canines realized it was almost breakfast time. 
The pooches dined on TLC dog kibble, paired with some more of that excellent tap water.  Then it was back into their crates (Alyssa made sure the zipper was fully zipped on Macie's, and tightened the roof and secured the velcro on Jasper's… but you see where this is going, right?), while the humans went down to the main lodge for breakfast. 
Breakfast is served in the dining room buffet-style, and you just seat yourselves.  We chose a table on the screened-in porch (we had to steal place settings from another table), and hit the buffet.  There's lots of hot and cold to choose from.  We might have gone a little crazy — even Alyssa, who rarely eats breakfast at home.  Roasted tomatoes (A only), potatoes, scrambled eggs, bacon and sausage (D only), pancakes (A only), fresh croissants, fruit… I think the only thing we didn't do was toast, yogurt and granola.  It's 2:00 right now, and we're still full. 
After breakfast, we went back to the cottage where, sure enough, the dogs had both pulled their Houdini tricks.  We have no idea how Macie got the zipper undone from the inside, but… ta-daa!  They were both out.  This may not bode well for tomorrow's trip to Lakefield…
We grabbed our books, their toys and water, and headed back to the dog park.  There, they met some new friends (who didn't like Jasper too much at first, but eventually warmed up), two Goldens named Charlie and Jake.  Much romping was had, while we chatted with their humans.  They are currently passed out on the cabin floor, and we're about to pass out on the bed.  Nap time!!!

[This was finally posted after nap and more romping... which we shall update tomorrow.]