Sorry we aren't keeping up to date with this – a combination of being busy, plus the internet being rather intermittent.
While the dogs napped on Wednesday afternoon, we enjoyed half a maple butter tart each (left over from our BBQ the night before).  There was no way we could finish the whole thing, as it was both large and sweet.  Plus Don doesn't like raisins in his desserts, so Alyssa gets a whole butter tart to savour by herself sometime later.  :)  We may or may not have washed it down with a ginger beer.  I can't even remember, we're so far behind, but... probably a ginger beer was involved.
We took them to the park again for some play-time, although the pretty much had the place to themselves at that hour.
We didn't even bother putting the Houdini twins in the crate when we went to dinner.  Macie has been staying in hers, but it didn't quite seem fair to leave her in and have her brother taunt her, so we just closed the blinds to the sliding door (so they wouldn't see all the squirrels go by), and left them to it.  The cabin is small enough, there wasn't too much for them to get in trouble with, anyhow...
Back to the Boathouse, where our waiter Hannah was back – unfortunately, she was the only one on staff that night, and it was a pretty packed restaurant.  Hopefully everyone was kind to her, but she seemed on the verge of tears a couple of times.  We grabbed a table outside again, although it (understandably) took her a while to get to us to bus the table and get our drink orders.  There were lots of friendly folks surrounding us, though, so we had some nice chats.
For the wine, we opted for an Italian red – we totally forget the name, but it's from Verona, and the label is a picture of the Romeo & Juliet wall (filled with love note graffiti).  It was quite tasty.  Don opted for the Primal Cuts 8oz Saints Sausage, with maple wild leeks, Whole Hog mustard and lovage onions.  He loved it, especially the mustard.  As a side, he got the sweet potato fries (Alyssa may have stolen a few).  Alyssa had the Fish & Chips, which were 4 pieces of breaded lake perch (not greasy at all) with citrus chive aioli and house-cut fries.  Hannah even brought a bottle of malt vinegar without being asked, so... bonus points!  :)
The bugs were getting a little nasty, so we headed inside once our main course was done (and yes, we each finished the whole thing).  Alyssa was too full to consider dessert, but Don went for the Sundae again.  We aren't sure if it was a thank-you for being so patient, or just a different person in charge that night, but this Sundae was MUCH bigger than the first, and with lots more cookie pieces.  Alyssa may have had to help with a few spoonfuls, martyr that she is...
On our way back to the cottage, we again got to look at the beautiful full (or nearly-full) moon reflected on the lake.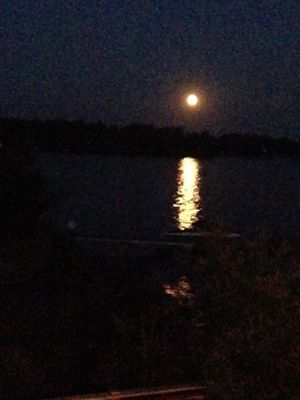 The pups noshed on TLC kibble with rice and chicken, and had a nice walk around the property before it was time for bedtime beer & biscuits.
Since this is only a half-day post, now would probably be a good time to tell you all about the activities and amenities on the property.  We haven't been able to take advantage of much of it, with the Houdini twins, but perhaps we'll come back without them sometime and see what we missed!  As previously mentioned in the tales of Macie and Jasper, there are 6km of off-leash trails and a working farm (totally free-range) on the property.  Plus the dog park and swimming area, of course.  There are also boats (canoes and kayaks) available down at the beach, plus an area where fishing poles and bait are left for anyone who would like to use them.  There's a great workout room for those who feel like punishing themselves on a holiday, an indoor pool and an outdoor pool.  There's also an activities centre, which has various games and crafts throughout the day.  Should you not like to sleep on your holiday, you can sign up for a 6am fishing trip with the owner.  Every morning at 11:00 there's an outdoor activity schedule for those who wish to join in – a guided hike on the trails, or foraging lessons, or a guided paddle around the lake, etc.  At 1pm each day, there's a social hour with the staff – lemonade or ice cream or other kid-friendly ingestibles – and at 2pm there are various water games scheduled.  In the afternoons, there are also wine or beer tastings, or bartending classes available for the adult crowd.  And every day at 4:00 you can go on a guided tour of the farm, help round up the animals and feed them.  A couple of times a week, there's a pizza dinner for the kids, and every night there's either a movie under the stars or a campfire.  So nobody can complain they're bored!
Starting in the fall, they're also going to be offering the "
Viamede Academy
", which looks like a lot of fun (Ali?  Lisa?  Paul?)  Depending on the weekend you choose, you can take a workshop in The School of (Un)Necessary Skills for Distinguished Ladies & Gentlemen of the 21st Century (looks like a hoot!), The Gathering Preparatory College (various culinary workshops), The International Institute of Experimental Artistry (all sorts of different arts and crafts workshops), or The Habitat for Budding Flora Experts and Born Fauna Enthusiasts.  Sounds like a great way to get into trouble with good friends.  :)
Internet-willing, we'll try to get Thursday's report up soon!
xo
A&D